It's beginning to look a lot like Christmas! La.......la..la.....la la!
No, really it is. There is a Christmas section in the commissary, an entire Christmas
shop
at the Exchange, and Target is setting up Christmas decorations next to Halloween decorations (weird).
But if you're like me, this makes me extremely happy! Let's just skip right over Halloween (booo! (pun)) and get right to Thanksgiving and Christmas! :)
Super-early Christmas decorations in the stores means it's time to start planning for Christmas cards!!!
Cue
Shutterfly
. I *love* this picture site. I am completely obsessed with my pictures and have used a bunch of online photo printing services.
Shutterfly
is a bit more expensive than some of the other sites, but Shutterfly has the best quality
by far,
which is why this frugal gal still uses them.
Plus, they have adorable options for photo Christmas cards. They even have a
religious section
for Christmas cards so you can spread Christ's love through the mail!
Spoiler alert! Here are my picks for our Christmas cards:
Yay Christmas! :)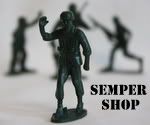 Join us for the Marine Birthday Bash, November 8-11!