I was recently contacted by
fibi & clo
to review a pair of their sandals. When I saw the package in the mail, I immediately ripped it open. I had seen the sandals online and was so excited to get my own pair of
Smoke Cascade sandals
! Here are the lovelies (the shoes, not my feet)...
As the sun hit the beautifully jeweled crystals on the sandals, I'm sure I had a reflective twinkle in my eye. Too dramatic? Maybe. But really...the first thing I noticed when I opened the package was how sparkly and pretty the sandals were!
When I was finally able to try them on, I was really pleased with how they looked. Outfit ideas to highlight these sandals immediately flooded my mind. To me, that's the sign of a good and very wearable piece(s).
The perfect amount of sparkle on my bare feet = happy feet! :)
Fibi & clo
doesn't have half sizes, so I got a size up from my normal halfsy-size. Even for going up a size, they run a little small. Other than that, they're relatively comfortable (but, as I remind Hubby all the time, sometimes comfort is sacrificed for looking good) and are great quality.
The
fibi & clo
sandals were a big hit for me! They already have a place in my closet and have been paired with a number of outfits. That's the great thing about living in a warm climate...summer clothes and shoes well into the fall! :)
Good job,
fibi & clo
!
To get your own, you can buy a pair of sandals on the
fibi & clo website
for $45, OR purchase the sandals through
AAFES
(the Exchange website) for $34.99 plus free shipping. Cute shoes AND they support the military...awesome!
So, what do you think?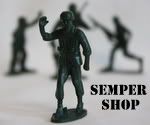 Join us for the Marine Birthday Bash November 8-11!